About
PCC AIRFRAME PRODUCTS
Alloy Processing is recognized throughout the aerospace and defense industry for our quality, ability to process the largest and most complex parts, and comprehensive metal finishing solutions.

Since our founding in 1988, Alloy Processing has remained focused on the principles of quality and workmanship set forth in our mission statement: Alloy Processing is committed to total quality and excellence in workmanship. Every employee is committed to improving the way we accomplish our work assignments and meet our goals through "continuous improvement" of our processes and wise utilization of our valuable resources. We will ensure customer satisfaction with first time quality and superior "world class product". Precision Castparts Corp. acquired Alloy Processing in March 2013.
We achieve quality with superior surface preparation, a CATIA-driven masking system, and an experienced workforce committed to excellence. We rinse, clean, and etch every metal surface using a system of matched chemistries to ensure reliable structural bonding and paint adhesion. Our masking system allows us to position reusable masking templates for precise processing of the most complex parts. And our dedicated employees ensure that your parts are processed accurately and efficiently every step of the way.
In response to increasing customer demand, we built and certified a state-of-the-art facility featuring some of the largest aluminum and titanium tanks in North America with corresponding NDI, shot peen, and paint facilities.
Capabilities
Pretreatment
One or more chemical processes are used to remove contaminants, impurities, and surface material to improve corrosion properties and prepare the surface for penetrant inspection and additional processing. Alloy Processing performs the following pre-treatments:
Solution cleaning to remove oil, ink, grease, and other contaminants
Acid or alkaline solution etching (pickling) to remove surface oxides and a thin layer of metal in preparation for penetrant inspection
Deoxidizing to remove surface oxides and contaminants in preparation for additional treatments
Weak acid bath passivation to remove exogenous compounds from the part surface and enhance the formation of a passive oxide layer to resist corrosion
Non-Destructive Inspection
Liquid Penetrant Inspection
Liquid (or dye) penetrant inspection is used for detecting surface breaking flaws such as cracks or laps and folds in any non-absorbent surface. Surface flaws are easily identified using fluorescent penetrants under darkened conditions with UV lamps.
Hardness Testing
Each metal type has a required hardness level in its finished condition. Hardness testing is a method of testing to determine the hardness of a specific metal. The test is done by using a specially designed, calibrated, indenter that is pushed into the material. The resistance of the material is translated to a hardness value. The hardness value is directly correlated to the material's tensile strength.
Conductivity Inspection
Most materials have a unique conductivity value determined by their chemical composition and their respective manufacturing and processing method. Many specifications require a conductivity inspection to be performed to ensure the components are within the specified range for the material type from which the component is made.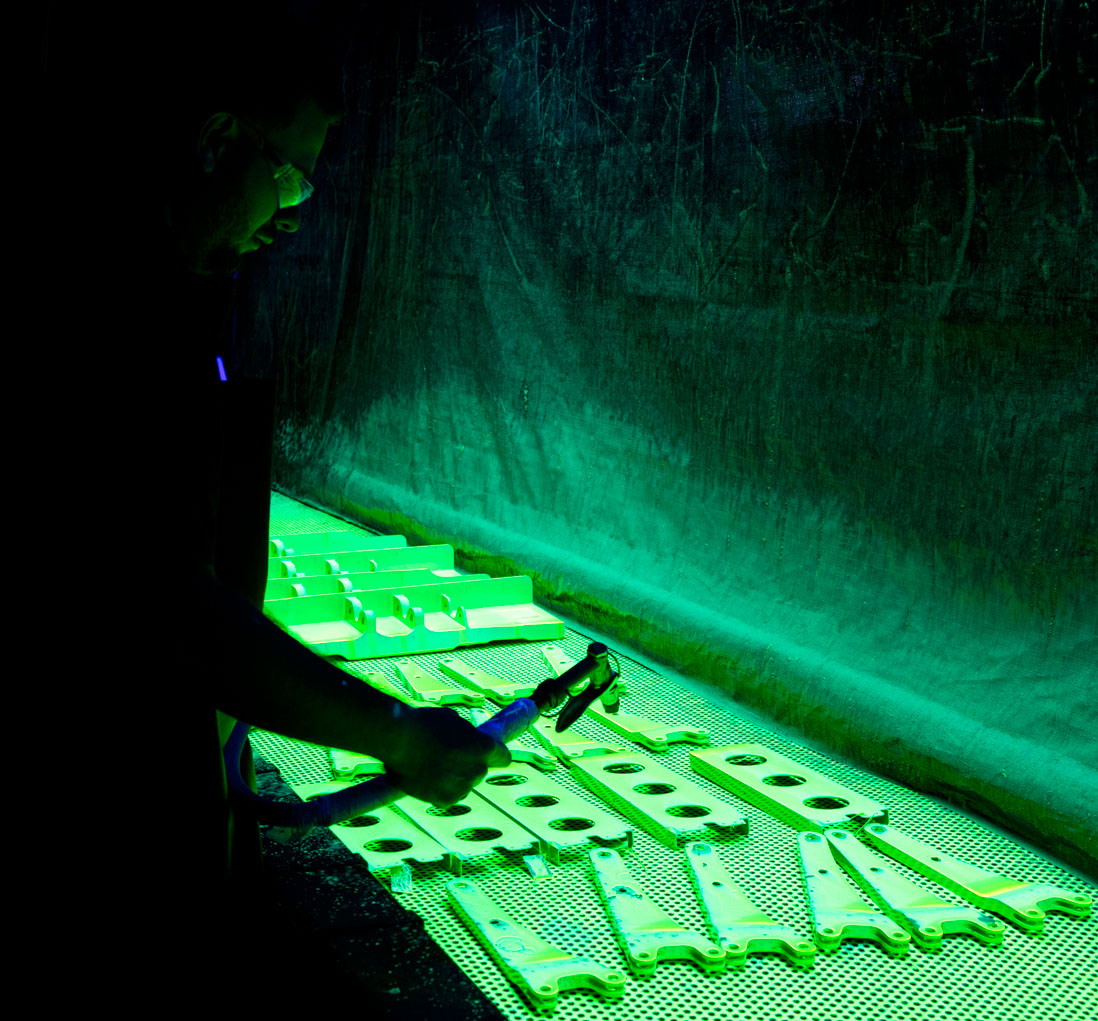 Anodizing
Chromic Acid Anodizing
Chromic acid anodize is a vital process in providing additional surface protection to aircraft components. The process is a rapid, controlled oxidation of the aluminum surface. Aluminum, in its natural state, has a high resistance to atmospheric corrosion due to its thin layer of oxide. This film is thickened using the chromic acid anodize process. When finished, the component will have a gray, corrosion resistant coating.
Sulfuric Acid Anodizing
Sulfuric acid anodizing provides a similar level of protection to the aluminum surfaces as chromic acid anodizing but conforms to different process specifications.
Boric/Sulfuric Acid Anodize
Boric/sulfuric acid anodize is a direct replacement for chromic acid anodizing. It provides similar protection properties.
Tartaric Sulfuric Acid Anodize (TSA)
Another replacement for chromic acid anodize.
Chromate Conversion Coating (Chem Film)
Aluminum chromate conversion coatings (often referred to as chemical film, Alodine, Alocrom, or Iridite) are used where maximum protection from corrosion is required. Typical uses include: (1) As a primer to improve the adhesion of paints and adhesives, including the adhesives used to bond nut plates; (2) As a corrosion inhibitor on small areas that will to be left unpainted; (3) To preserve conductivity in electrical bond areas.
Painting and Coating
Primers
Primer increases the adhesion of the topcoat or paint to the material. Alloy Processing applies the following types:
Paint (Topcoat)
The topcoat is the final coating on a component. Alloy Processing applies the following types of paints:
Aliphatic polyurethane
Commercial coatings
Fuel Tank Coating
Fuel tank coatings are applied to the components used in the interior of a fuel tank and the fuel wetted areas of an aircraft. They are specifically designed to prevent corrosion in these harsh environments.
Solid Film Lubricants
Solid film lubricants are paint-like coatings of very fine particles of lubricating pigment blended with a binder and other additives. The lubricant is applied to a substrate by spray, dip or brush methods and, once cured, creates a solid film which repels water, reduces friction, and increases wear life of the substrate.
Sol-Gel
Sol-Gel is a chromate-free, metal oxide coating used on titanium and other metals to improve corrosion resistance. Alloy Processing applies sol-gel using dip, immersion, brushing, and spray processes.
Thermal Spray
Thermal spray allows high performance coating applications of materials such as metals, alloys, ceramics, and carbides to be applied to relatively easy-to-work and more economical base materials. The results significantly improve component resistance to wear, heat, oxidation, and corrosion. To complete our thermal spray offering, Alloy Processing offers stripping, precision grinding, and superfinishing services.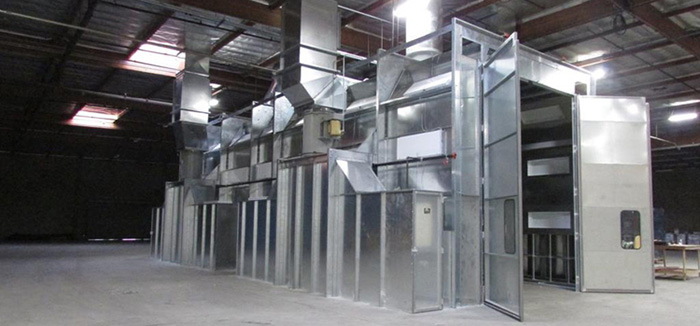 Shot Peen
Treatment and Forming
Shot peening is used to work-harden metal to increase its fatigue life. Alloy Processing operates high speed shot peen equipment with forming capabilities.
Engineering
Full CATIA Capability
Our engineering professionals use CATIA and Enovia for all our MBD (model-based definition) components.
Custom and Special Masking Capabilities
We specialize in complex masking. Nothing is too big or complex for our experienced staff and CATIA-based system. Our motto is, "There are no problems, only solutions"
Part Marking
As the last step in the component manufacturing, we can provide any specified part marking requirements on the component.
Capacities
Chemical Processing
Processing tanks up to 50 ft x 12 ft x 4 ft (15m x 3.6m x 1.2m).
Shot Peen
We handle parts sizes up to 50 ft x 20 ft (15m x 6m)
Nondestructive Inspection
Our NDT inspection booth will fit parts up to 50 ft (15m)
Prime and Paint
Our painting booth allows us to prime and topcoat parts up to 50 ft (15m)
Delivery Services
Expedite
Immediate service is available, and charges vary according to current backlog in required services
Pickup and Delivery
Available in Los Angeles and Orange Counties: Anaheim - Buena Park - Burbank - City of Industry - Gardena - Glendale - Irvine - Long Beach - Los Angeles - Pasadena - San Fernando Valley - San Gabriel Valley - Santa Ana - Sun Valley
Products/Services
Large Part Processing
Cleaning of Aluminum Alloys
Cleaning of Titanium Alloys
Cleaning of CRES Steels
Decontamination of Shot Peen Residue
Pre-penetrant Etch of Aluminum Alloys
Pre-penetrant Etch of Titanium Alloys
Pre-penetrant Etch of CRES Steels
Sulfuric Acid Anodize of Aluminum Alloys
Tartaric Sulfuric Acid Anodize
Post Anodize Seal: Dilute Chrome Seal, Sodium Dichromate Seal, Hot DI Water Seal
Prime and Paint
Epoxy and Urethane Primer
Epoxy and Urethane Topcoat
Chemical Agent Resistant Coating (CARC)
High Temperature Primer
Fuel Tank Coating
Teflon Coating
Ceramic Coating
Dry Film Lubricant
Shot Peen
High Speed Shot Peen
Forming Capabilities
Thermal Spray
HVOF Spray
Plasma Spray
Wire Arc
Precision Grinding & Superfinish: Grinding, Superfinish, Polish
Dry Abrasive Blasting
Nondestructive Testing
Penetrant Inspection
Hardness Testing
Conductivity Testing
Engineering
Full Catia Capability
Custom and Special Masking Capabilities
Part Marking
Alloy Processing Metal Finishing Approvals
| Process | Sub-Processes | Customer | Specs |
| --- | --- | --- | --- |
| Painting & Coatings | Application of Anti-Slip Emergency Walkaway Paint | Airbus | 80-T-35-5212 |
| Painting & Coatings | Application of Anti-Static Paints on Composite Parts | Airbus | 80-T-35-9120 |
| Painting & Coatings | Application of Basic Primer | Airbus | ABP4-1123 |
| Painting & Coatings | Application of external paint systems | Airbus | 80-T-35-5254 |
| Painting & Coatings | Application of Structural Paints | Airbus | 80-T-35-5030 |
| Painting & Coatings | Application of Structural Paints | Airbus | 80-T-35-5130 |
| Painting & Coatings | Application of Structural Paints | Airbus | ABP4-2130 |
| Painting & Coatings | Application of Structural Paints | Airbus | AIPS05-02-009 |
| Painting & Coatings | Chemical Conversion Coating | Airbus | 80-T-35-1101 |
| Painting & Coatings | Chemical Conversion Coating | Airbus | 80-T-35-9124 |
| Painting & Coatings | Chemical Conversion Coating | Airbus | AIPS02-05-001 |
| Anodizing | Chromic Acid Anodizing of Aluminium Alloys | Airbus | ABP1-1023 |
| Anodizing | Chromic Acid Anodizing of Aluminium Alloys | Airbus | AIPS02-01-001 |
| Non-Destructive Testing | Coating Thickness Measurement | Airbus | AITM6-6006 |
| Pretreatment | Deoxidation of Aluminium Alloys | Airbus | ABP8-1296 |
| Shot Peening | Dry Blasting | Airbus | Acid Cleaning & Deoxidizing Aluminum Alloys |
| Shot Peening | Dry Blasting | Airbus | AIPS02-02-002 |
| Miscellaneous | Electrical bonding | Airbus | AIPS07-01-006 |
| Non-Destructive Testing | Penetrant Testing | Airbus | ABP6-5230 |
| Non-Destructive Testing | Penetrant Testing | Airbus | AITM6-1001 |
| Painting & Coatings | Pickling of Titanium and its Alloys | Airbus | 80-T-35-0106 |
| Painting & Coatings | Pickling of Titanium and its Alloys | Airbus | ABP8-2299 |
| Painting & Coatings | Pickling of Titanium and its Alloys | Airbus | AIPS09-02-005 |
| Painting & Coatings | Rework of Paints on Metallic & Non-Metallic Structural Parts | Airbus | AIPS05-02-011 |
| FAA Repair/MRO | Rework of Scratches in Aluminium Alloys on External Surfaces | Airbus | AIPS03-03-001 |
| Pretreatment | Rinsing | Airbus | 80-T-35-0090 |
| Shot Peening | Shot Peening for Fatigue Enhancement | Airbus | 80-T-35-0205 |
| Shot Peening | Shot Peening for Fatigue Enhancement | Airbus | ABP1-2028 |
| Shot Peening | Shot Peening for Fatigue Enhancement | Airbus | ABP1-2353 |
| Shot Peening | Shot Peening for Fatigue Enhancement | Airbus | AIPS02-02-004 |
| Anodizing | Tartaric Sulfuric Anodising of Alloys & Paint Pretreatment | Airbus | Acid Cleaning & Deoxidizing Aluminum Alloys |
| Anodizing | Tartaric Sulfuric Anodising of Alloys & Paint Pretreatment | Airbus | Acid Cleaning & Deoxidizing Aluminum Alloys |
| Anodizing | Anodizing Aluminum | Boeing | PS13201 |
| Anodizing | Anodizing Aluminum (QPL) | Boeing | HP4-2 |
| Painting & Coatings | Application Corrosion Resistant Finish for Integral Fuel Tanks | Boeing | BAC 5793 |
| Painting & Coatings | Application of Sol-Gel Conversion Coatings | Boeing | BAC 5665 |
| Miscellaneous | Boeing Approved QMS | Boeing | Quality System |
| Anodizing | Boric Acid - Sulfuric Acid Anodizing Class 1 | Boeing | BAC 5632 |
| Anodizing | Boric Acid - Sulfuric Acid Anodizing Class 5 | Boeing | BAC 5632 |
| Painting & Coatings | Chemical Conversion Coating on Aluminum | Boeing | MIL-C-5541 |
| Painting & Coatings | Chemical Conversion Coatings for Aluminum | Boeing | BAC 5719 |
| Painting & Coatings | Chemical Conversion Coatings on Aluminum Alloys | Boeing | MIL-DTL-5541 |
| Painting & Coatings | Chemical Film - Aluminum | Boeing | MIL-A-8625 |
| Anodizing | Chromic Acid Anodizing | Boeing | Pretreatment |
| Anodizing | Chromic Acid Anodizing - Chromate Sealed | Boeing | DPS11.01-3 |
| Anodizing | Chromic Acid Anodizing - Class 1 and 3 | Boeing | BAC 5019 |
| Anodizing | Chromic Acid Anodizing - Class 5 | Boeing | BAC 5019 |
| Anodizing | Chromic Acid Anodizing of Alum. - Type I | Boeing | MIL-A-8625 |
| Pretreatment | Cleaning - Descaling of Titanium - Method II Only | Boeing | BAC 5753 |
| Painting & Coatings | Colorless Chemical Surface Treatment of Aluminum Alloys | Boeing | DPS9.45 |
| Painting & Coatings | Fuel Tank Coating | Boeing | DPS4.50-127 |
| Non-Destructive Testing | Liquid Penetrant Inspection | Boeing | BSS 7039 |
| Painting & Coatings | Multicolored Chemical Conversion of Aluminum Alloys | Boeing | PS13209 |
| Painting & Coatings | Multicolored Chemical Surface Treatment of Aluminum Alloys | Boeing | DPS9.45 |
| Non-Destructive Testing | NDI Personnel Certification Level 3 Penetrant | Boeing | NAS 410 |
| Non-Destructive Testing | Penetrant Inspection | Boeing | BAC 5423 |
| Non-Destructive Testing | Penetrant Inspection | Boeing | ASTM-E-1417 |
| Non-Destructive Testing | Penetrant Inspection | Boeing | MIL-I-6866 |
| Non-Destructive Testing | Penetrant Inspection | Boeing | DPS4.707 |
| Non-Destructive Testing | Penetrant Inspection - Aluminum | Boeing | PS21202 |
| Non-Destructive Testing | Penetrant Inspection - Titanium | Boeing | PS21202 |
| Non-Destructive Testing | Process Solution Control | Boeing | Chem. Testing |
| Non-Destructive Testing | Salt Spray Testing | Boeing | ASTM-B-117 |
| Shot Peening | Shot Peen Forming | Boeing | BAC 5730-1 |
| Shot Peening | Shot Peening | Boeing | BAC 5730 |
| Anodizing | Sulfuric Acid Anodize Type II | Boeing | MIL-A-8625 |
| Anodizing | Sulfuric Acid Anodizing | Boeing | BAC 5022 |
| Anodizing | Sulfuric Acid Anodizing - Thin Film | Boeing | DPS11.05-2 |
| Non-Destructive Testing | Temper Inspection of Non-ferrous Alloys | Boeing | BAC 5946 |
| Painting & Coatings | Abrasion Resistant (Anti-Chafe), All Applicable per GAF14A | Gulfstream | GAMPS 3303 |
| Pretreatment | Acid Cleaning of Ferrous Alloys | Gulfstream | GAMPS 4103 (MIL-DTL-5002) |
| Pretreatment | Alkaline Cleaning of Ferrous & Non-Ferrous Alloys (not Titanium & its Alloys) | Gulfstream | GAMPS 4105 (MIL-DTL-5002) |
| Painting & Coatings | Annodic Coatings for Aluminum and Aluminum Alloys, All Applicable per GAF14A | Gulfstream | MIL-A-8625 |
| Painting & Coatings | Anodic Coating, Chromic Acid, of Aluminum and its Alloys | Gulfstream | GAMPS 6201 (MIL-A-8625, TY 1 or 1B, CL 1) |
| Painting & Coatings | Application of Bond Primer - BR127 | Gulfstream | GAMPS 8112 |
| Anodizing | Boric-Sulfuric Acid Anodize | Gulfstream | GAMPS 6206 (MIL-A-8625, TY 1C) |
| Painting & Coatings | Chemical Film, Chromate Conversion Coating, Low Electrical Resistance | Gulfstream | GAMPS 6113 (MIL-DTL-5541, CL 3) |
| Pretreatment | Cleaning and Descaling of Titanium Alloys, All Applicable per GAF14A | Gulfstream | GAMPS 4107 |
| Painting & Coatings | Coating of Integral Fuel Cells, Anti-Corrosion Fuel Resistant | Gulfstream | AMS-C-27725 |
| Painting & Coatings | Coating, Corrosion Preventive, Aircraft Integral Fuel Tanks | Gulfstream | GAMPS 3102 (AMS-C-27725) |
| Painting & Coatings | Coating, Epoxy Primer, Application of (2 coats) Fill and Drain | Gulfstream | GAMPS 3103 and GMS 5001 |
| Painting & Coatings | Dry Film Lubricants, Fused Teflon | Gulfstream | GAMPS 3307 (AMS 2515 and AMS 2516) |
| Painting & Coatings | Dry Film Lubricants, Moly-Disulfide (Air Dried) | Gulfstream | MIL-PRF-46147 |
| Painting & Coatings | Dry Film Lubricants, Resin Bonded Tetrafluoroethylene Emralon | Gulfstream | GAMPS 3301 / GAL105N1 |
| Painting & Coatings | Epoxy Topcoat, High-Solids, Phospate Ester Fluid Reistance, All Applicable per GAF14A | Gulfstream | GAMPS 3216 |
| Painting & Coatings | Lacquer, Gloss Acrylic, Gloss Clear | Gulfstream | MIL-PRF-81352 |
| Painting & Coatings | Lacquer: Acrylic, MIL-L-81352A, Application of, All Applicable per GAF14A | Gulfstream | GAMPS 3203 |
| Pretreatment | Passivation of Corrosion and Heat Resisting Alloys | Gulfstream | GAMPS 4103 (AMS 2700) |
| Painting & Coatings | Polyurethane Enamel, Preperation and Application of, All Applicable per GAF14A | Gulfstream | GAMPS 3209 |
| Painting & Coatings | Primer | Gulfstream | GAMPS 3116 / GMS 5005 |
| Painting & Coatings | Primer, Epoxy, Skydrol Resistant, Green | Gulfstream | GAMPS 2012 |
| Painting & Coatings | Solid Dry Film Lubricant, All applicable per GAF14A | Gulfstream | GAMPS 3306 |
| Non-Destructive Testing | Standard Practice for Liquid Penetrant Testing, All Applicable per GAF14A | Gulfstream | ASTM E 1417, MIL-STD-1907 |
| Painting & Coatings | Topcoat, Epoxy, Gloss, Untinted White 17925 | Gulfstream | GAMPS 2013 |
| Pretreatment | Aluminum Alloys-Alkaline/Acid Metal Removal Methods | Lockheed Martin | STP57-301 |
| Painting & Coatings | Application and Control of Organic Finishes | Lockheed Martin | LMA-PJ264 |
| Painting & Coatings | Application of Finish for C130 Hardware | Lockheed Martin | G604 |
| Painting & Coatings | Chem Film | Lockheed Martin | AMS-C-5541/MIL-DTL-5541, Type I, Class 1A and Class 3 |
| Painting & Coatings | Chem Film | Lockheed Martin | STP 58-405 |
| Anodizing | Chromic Acid Anodize | Lockheed Martin | 2ZZP00001 |
| Anodizing | Chromic Acid Anodize | Lockheed Martin | MIL-A-8625, Type 1 and Type 1B |
| Anodizing | Chromic Acid Anodize | Lockheed Martin | STP 58-209 |
| Heat Treat | Conductivity Testing | Lockheed Martin | LMA-PC009 |
| Heat Treat | Conductivity Testing | Lockheed Martin | NDTS-1500 / 1502 |
| Painting & Coatings | Epoxy Primer/Polyurethane Top Coat | Lockheed Martin | G700 |
| Painting & Coatings | Fuel Tank Coating | Lockheed Martin | MIL-C-27725/AMS-C-27725 |
| Painting & Coatings | Fuel Tank Coating | Lockheed Martin | FPS-1004 (MIL-C-27725/AMS-C-27725) |
| Painting & Coatings | Fuel Tank Coating | Lockheed Martin | Proc Bulletin G639 |
| Heat Treat | Hardness Conductivity & Tensile Strength | Lockheed Martin | DS30005 |
| Heat Treat | Hardness Testing | Lockheed Martin | LMA-PC009 |
| Heat Treat | Hardness Testing | Lockheed Martin | NDTS-1500 / 1501 |
| Heat Treat | Hardness/Conductivity Inspec. Wrought Alum Alloy | Lockheed Martin | AMS 2658 |
| Pretreatment | Pre-Penetrant Etch - Aluminum | Lockheed Martin | NDTS-1101 |
| Pretreatment | Pre-Penetrant Etch - Titanium | Lockheed Martin | LMA-PG001 |
| Pretreatment | Pre-Penetrant Etch-Aluminum | Lockheed Martin | LMA-PG001 |
| Painting & Coatings | Prime and Paint | Lockheed Martin | MIL-F-18264 |
| Painting & Coatings | Solid Film Lubricant | Lockheed Martin | MIL-L-46010 / MIL-PRF-46010 |
| Painting & Coatings | Titanium Conversion Coating | Lockheed Martin | LMA-PH016 |
| Painting & Coatings | Anodic Coatings for Aluminum and Aluminum Alloys | Northrop Grumman | MIL-A-8625 |
| Painting & Coatings | Application of Primer Coating, Epoxy Polyamide | Northrop Grumman | GSS 4310 |
| Painting & Coatings | Chemical Conversion Coatings for Aluminum Alloys | Northrop Grumman | MIL-DTL-5541 |
| Pretreatment | Cleaning of Aluminum Alloy Parts | Northrop Grumman | MPD 1074 |
| Pretreatment | Cleaning, Surface Treatments and Coatings | Northrop Grumman | ACS-PRS-2203 |
| Painting & Coatings | Coating, Polyurethane | Northrop Grumman | GSS 4510 |
| Painting & Coatings | Coating, Thermal Spray High Velocity Oxygen / Fuel Process | Northrop Grumman | AMS 2447 |
| Pretreatment | Etching Prior to Penetrant Inspection | Northrop Grumman | ACS-PRS-1053 |
| Miscellaneous | Finish Specification for F-35 Weapon System | Northrop Grumman | 2ZZP00001 |
| Non-Destructive Testing | Fluorescent Penetrant Inspection | Northrop Grumman | GT 23 A |
| Non-Destructive Testing | Fluorescent Penetrant Inspection | Northrop Grumman | LMA-PC201 |
| Painting & Coatings | Integral Fuel Tank Coating (MILC27725) | Northrop Grumman | GSS 4306 |
| Shot Peening | Peen Forming of Ferrous and Non-Ferrous Alloys | Northrop Grumman | GSS 5314 |
| Shot Peening | Peening of Ferrous and Non-Ferrous Alloys | Northrop Grumman | GSS 5310 |
| Non-Destructive Testing | Penetrant Inspection | Northrop Grumman | ACS-PRS-7005 |
| Painting & Coatings | Plasma Flame Spray of Bearings | Northrop Grumman | MP-320 |
| Painting & Coatings | Plasma Spray | Northrop Grumman | R-332 |
| Painting & Coatings | Polysulfide Rubber Coating | Northrop Grumman | GSS 14600 |
| Pretreatment | Procedure, Etching prior to Penetrant Inspection | Northrop Grumman | GP 17 G |
| Non-Destructive Testing | Standard Practice for Liquid Penetrant Testing | Northrop Grumman | ASTM E1417 |
| Non-Destructive Testing | Standard Practice for Operating Salt Spray (Fog) Apparatus | Northrop Grumman | ASTM B117 |
Supplier Quality Documents
Address:
1900 W Walnut St.
Compton, CA 90220
Phone:  (310) 635-9995 
Fax:  (310) 635 9936