About
Founded in 1981, Helicomb is a vertically integrated, build-to-print, lean manufacturing facility that manufactures and repairs composite and metal-bonded parts, sub-assemblies and assemblies. Helicomb International was acquired by PCC in November, 2012.
Serving Key Market Segments:
Commercial fixed-wing and helicopter
DoD manufacturing and spares
Military fixed-wing and helicopter
MRO–helicopter repair for commercial and military
Customers Rely on Helicomb for:
Composite and metal bond manufacturing
MRO / repair
Kitting and assembly
Chemical (metallic) processing
Bond, prime, and paint
CMM inspection
On-site laboratory
Program management
Supply chain management
Manufacturing engineering
On-site tooling department and tool storage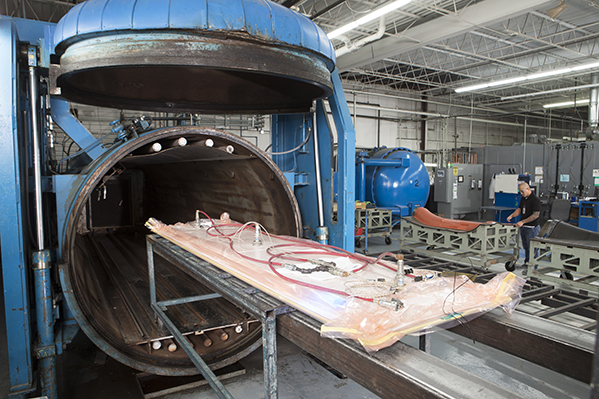 Capabilities
Bonding - Nadcap Accredited
Carbon/graphite, glass, quartz, Kevlar, aluminum, titanium and stainless steel
Metallic, Nomex and foam cores
Epoxy, phenolic and BMI resin
Hand lay-up autoclave and oven cure for composites and metal bond
Prime and Paint
Corrosion-resistant bond primer
Paint preparation and top-coat application
Chemical (Metallic) Processing Nadcap Accredited
Phosphoric Acid Anodizing (PAA)
FPL aluminum etch
Hydrofluoric, nitric and phosphate titanium etch tanks
Stainless steel cleaning & etching
BAC5555 certified
Northrop Grumman, Bell Helicopter, Boeing, Sikorsky, and Triumph/Vought approved
Testing and verification lab
Onsite Laboratory
Material property testing
Material receiving
Part qualification/coupon testing
Statistical process control
Facility and Equipment
Controlled Cleanrooms (Boeing Approved)
Autoclaves (Boeing Approved)
Laser Ply Projects (Boeing Approved)
Automated Ply Cutter (Beoing Approved)
5-Axis Router
CMM - FARO
Chemical (Metallic) Processing Tanks (Nadcap Approved)
Prime and Paint Shop
Dedicated Tooling Fabrication and Tool Warehouse
On-site Lab with Tensile Testing Machines
Ovens
Freezers
On-site Tool Department and Tool Storage
Products & Services
Composite and Metal Bonding
Spares
Chemical Processing
Products Include
Trailing & Leading Edges
Fairings
Doors
Engine Decks
Wing Panels
Work Platforms
Tunnel Covers
Landing Gear Doors
Floor Panels
Tail Booms
Ducts
Inlets
Vertical Fins
Service Decks
Pie Decks
Boxes - Battery, Fuel Cell
Flaps
Antenna
Pylons
Covers & Shelves
Quality/Approvals
Approvals
Helicomb is a qualified/approved manufacturer for:
Bell Helicopter
Boeing Commercial & Defense
Northrop Grumman Aerostructures
Sikorsky Aircraft
Triumph/Vought
Northrop Grumman Technical Services
Supplier Quality Documents
PCC Aerostructures Document Library
View documents for all of our PCC Aerostructures sites including Terms and Conditions, Quality Certificates, and Supplier Documents.
Address:
1402 South 69th East Ave.
Tulsa, OK 74112
Phone:  (918) 835-3999
Fax:  (918) 834-4451