About
PCC Aerostructures Spanish Fork (formerly Klune Industries Spanish Fork) site offers capabilities in 2 to 7 axis machining, processing, kitting and assemblies.
Spanish Fork's machines produce parts ranging from small detail parts to large complex structural components for both commercial and military programs.
Our wide range of equipment can accept any type of large forgings and castings including aluminum, stainless steel and titanium. Our state-of-the-art equipment holds tolerances to 0.0005" which exceed most customer requirements.
Our higher volume customers enjoy dedicated production bays run by skilled and trained personnel. Some processes are highly automated and can be run "lights-out."
Klune Industries was acquired by Precision Castparts Corp. in August, 2012.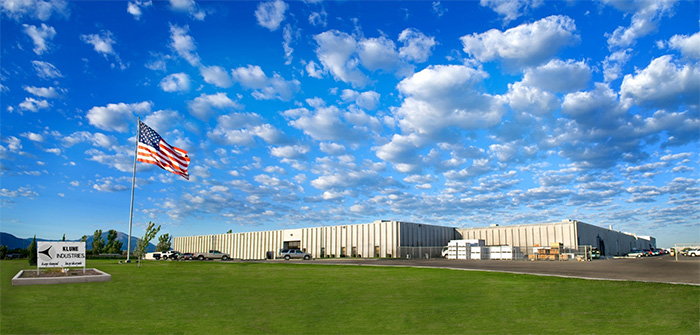 Capabilities
High Speed Machining (15,000+ RPM)
3, 4, & 5-Axis High Speed Machining of Complex Aluminum Structures up to 120 inches
3, 4, & 5-Axis High Torque Machining of Specialty Hard-to-Machine Aircraft Alloys up to 59 inches
High speed machining is particularly adapted to manufacturing large batches of metal components. Spanish Fork can provide parts machined at 15,000+ RPM.
When programs require, Spanish Fork augments its high speed machining capacity with capabilities from other PCC Aerostructures sites to deliver assemblies and kits from both our North Hollywood and Spanish Fork sites.
Complex Assemblies
Spanish Fork has demonstrated expertise in the precision manufacture of complex assemblies utilizing both mechanical and welding technologies.
Spanish Fork designs and builds the fixturing required to produce complex assemblies to exacting specifications. Spanish Fork manufactures complex mechanical assemblies such as:
Bomb Racks
Launchers
Aircraft Structures
Missile Bodies
Missile Fuel Tanks
Spanish Fork assemblies meet our customers' delivery and quality performance standards and ship ready to use on our customers' final assembly lines.
Integrated Kitting Center
Spanish Fork has demonstrated expertise in the delivery of large complex kits including up to 1,200 components utilizing both specially trained personnel and advanced software programs.
Spanish Fork gathers, manufactures, packages and ships large complex kits for all types of commercial and military programs including aircraft door surrounds, and rotors and airframes for helicopters.
Providing large packaged kits reduces our customers workload from both a procurement and manufacturing standpoint.
Processing, Testing and Inspection
Spanish Fork performs a wide range of in-house special processing and testing required to produce aerospace and defense parts. Our special processing and testing procedures are both Nadcap and customer approved.
Processing includes heat treating, painting, powder coating, hard anodizing, PTFE, chem film, etching, Sol-gel, and passivation. Testing procedures include Coordinate Measurement Machines, non destructive testing such as hardness testing, pressure testing, fluorescent penetrant inspection, magnetic particle inspection, conductivity testing and laboratory analysis.
The continuous expansion of our capabilities and accreditation lead to a one-stop experience for our customers. In-house processing reduces production cycle time and represents a competitive advantage. Our in-house testing and inspection capabilities reduce cycle time by providing clear and quick quality related feedback to the manufacturing cells. When possible, the testing process is co-located with production to reduce communication errors and give real-time feedback to the operator performing the work.
Products/Services
Missile Systems
Monolithic Machined Doors
Door Surrounds and Assemblies
Floor Beam Structures
Wing Leading Edge Assemblies
Entry Stair Assemblies
Bomb Racks
Supplier Quality Documents
Address:
1800 North 300 West St
Spanish Fork, UT 84660
Phone: (801) 798-7401
Fax: (801) 798-1006 (sales)